Who are the people behind Dazzle Bears?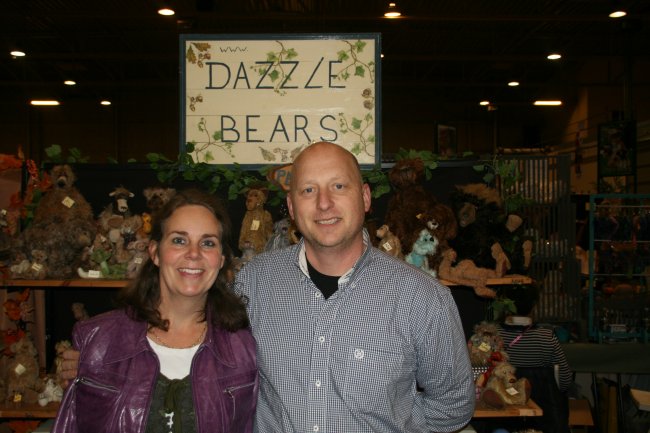 More than you think, I guess!

At first of course: I, the designer and creator of the bears and patterns: Natalie Pater.
The second one, is my husband Willem Pater. He is my critic, my driver and my helping hand when we have a fair.
He is also very tolerant when it's a mess in the living room just before a fair (all the bear stuff).
The last ones are my parents who always taken care of our 3 children when we're having a fair.

The first time I tried to sell my bears on a fair was in 1993.
I sold very well, but people kept asking for patterns (which I didn't sold just then)
I know from the time I attended fairs, I was always looking for nice/different kind of patterns, so when I began to realise that what I thought was easy (making patterns) was not so easy for a lot of people.
I started to create patterns: a few normal ones (but that was no challenge for me)
They sold very well, but I didn't like creating such bears: too easy, no fantasy and not creative enough.
Then I began to create different kind of bears and animals and that hasn't stopped yet!

The bears I make for selling are mostly one of a kinds.
I don't like making a bear twice or more. If I make more bears from the same sample, I've always changed little things I wasn't satisfied with, the first time.
The most important thing about the bear is the expression of the eyes. If the expression isn't good, the bear isn't good (that's my opinion) Sometimes it takes more than an hour to get the expression I want for this bear.

Almost all the bears I sell are miniature bears. The patterns vary form 7 cm to 45 cm.

Have fun in looking at my bears and if you're interested, or you just want to know something more about a bear, just sent me an email.